Polygon Cruncher (from $119.00 to $129.00 based on release)
Polygon Cruncher is a plugin for :
3D Photo Browser (included in 3D Photo Browser package)
Lightwave Modeler V6.x, V7.x, V8.x, V9.x and more /
Inspire 3D
3DS Max V4.x, V5.x, V6.x, V7.x, V8.x, V9.x
3DS VIZ
Autodesk VIZ
Review at the differences between versions on the Polygon Cruncher PDF data sheet.
Polygon Cruncher reduces the number of polygons in your objects without changing their appearance. You keep all the details even at high optimization ratio. You also keep texture information, vertex colors. You can also optimize retaining the symmetry of your objects.
Polygon Cruncher has an OpenGL view which allows controlling optimization results.
Moreover, Polygon Cruncher features batch processing. Select the optimization levels you wish. You can optimize one or more scenes at different levels in a single step.
Polygon Cruncher uses an unique algorithm, that gives incomparable results better than those obtained with the optimizer provided with 3DS Max or Lightwave.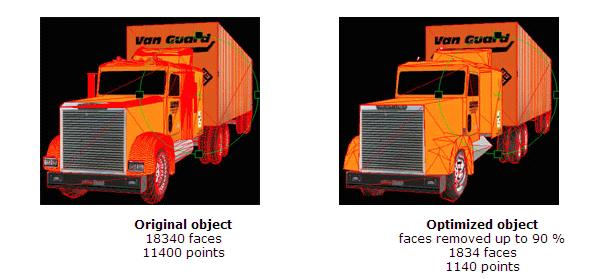 For a complete Polygon Cruncher description, download Polygon Cruncher PDF data sheet.